black hole bomb sphere
is a ball like device that is like a portable black-hole, they come in many sizes.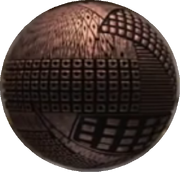 information
Edit
in the arrival, the black hole bomb spheres seem to be in many sizes, in which that can vacume anything, a BHB sphere the size of a medium size baseball can vacume everything in your room. a soccer ball sized BHB can vacume an entire building. in the second arrival film there was a beach ball sized BHB which can vacume an entire power plant.